Last Word cocktail
Last Word cocktail
Words by Simon Difford
These links will open in a new window
Made with gin, Green Chartreuse, maraschino liqueur and freshly pressed lime juice, traditionally in equal parts, shaken with ice and served straight-up. The Last Word is thought to date from immediately prior to Prohibition but owes its present-day popularity to being reincarnated in 2004 by Murray Stenson during his tenure at the Zig Zag Cafe in Seattle, USA.
The earliest published recipe, so usually regarded as being the original, is found in Ted Saucier's 1951 cocktail book Bottoms Up!:
1/4 dry gin
1/4 maraschino
1/4 chartreuse
1/4 lime juice
Ice
Serve in cocktail glass
Variations and recipes
Both the Last Word's name and equal parts recipe lends itself to adaptation. I prefer a Last Word recipe with the gin dialled up. There follows some of the many variations:
Dublin Minstrel – Irish whiskey, Green Chartreuse, maraschino liqueur and lime juice.
Dutch Word – Genever oude, Green Chartreuse, maraschino liqueur and lime juice.
Bird is the Word No.1 – tequila, Yellow Chartreuse, apricot brandy liqueur and lemon juice.
Bird is the Word No.2 – grappa, Green Chartreuse, maraschino liqueur, lime juice and chocolate bitters.
Closing Argument – mezcal, Green Chartreuse, maraschino liqueur and lime juice.
Final Ward – equal parts rye whiskey, Green Chartreuse, maraschino and lemon juice.
Last Word (Difford's recipe) – gin, Green Chartreuse, maraschino liqueur and lime juice.
Latest Word – equal parts genever, Green Chartreuse, maraschino liqueur and lime juice.
Loose Talk – Rye whiskey, Suze, Yellow Chartreuse, lemon juice, lime juice, maraschino liqueur and Benedictine D.O.M.
Marvin's Last Word – Equal parts gin, mastikha, Green Chartreuse and lime juice.
Monte Cassino – equal parts rye, Yellow Chartreuse, Benedictine and lemon juice.
Next To Last Word – equal parts gin, elderflower liqueur, maraschino liqueur and lemon juice.
Other Word – mezcal, lime juice, Yellow Chartreuse, agave syrup and maraschino liqueur.
Le Premier Word with a splash of cider.
The Symphony – with the addition of Islay whisky.
Wordsmith – equal parts rum, Green Chartreuse, maraschino liqueur and lime juice.
History
The earliest known written reference to the Last Word is in Ted Saucier's 1951 cocktail book Bottoms Up! where under the drink's name he wrote "Courtesy Detroit Athletic Club, Detroit. This cocktail was first introduced here around thirty years ago by Frank Fogarty, who was very well known in vaudeville. He was called the 'Dublin Minstrel,' and was a very fine monologue artist."
Depending on how accurate we assume "around thirty years" prior to the 1951 publication date is, this puts the drinks origins around 1920, immediately before or after Prohibition. The consensus seems to be that this this is one of the few great cocktails to emerge from the period before Prohibition.
Detroit Athletic Club
The Detroit Athletic Club, or the DAC, was established in 1887 by a group of young athletes with a clubhouse on Detroit's Woodward Avenue. The DAC was reborn in 1913 by a group of prominent Detroit automotive and industrial leaders who built the magnificent six-story Clubhouse on Madison Avenue which opened in 1915, where it is said Fogarty introduced the Last Word.
Bartenders standing behind Detroit Athletic Club bar. Image uncovered by Mitch Lustig and courtesy of the Burton Historical Collection, Detroit Public Library
Known as the 'The Dublin Minstrel', Frank Fogarty was a famous American theatre entertainer who was born in County Tipperary, Ireland but from the age of two grew up and lived on Warren street, Brooklyn. He broke into vaudeville (akin to today's stand-up comedy) in 1911 when he performed at the Orpheum in Brooklyn and became famous for his monologues, winning the New York Morning Telegraph contest for the most popular vaudeville performer in 1912. He typically opened his performance with a song and finished it with a recitation and this could well be where the drink's Last Word name emanates. Fogarty was quite a speaker, who also dabbled in politics being elected president of the vaudeville actors union in 1914.
The Last Word continued to be popular during and after Prohibition and so found its way into in Ted Saucier's book. However, like so many cocktails the Last Word fell out of favour to be forgotten. That was until 2004, when Murray Stenson, a bartender at the Zig Zag Café in Seattle, USA found the recipe in a 1952 copy of Saucier's book. Murray added the cocktail to the menu at the Zig Zag Café where it was well received by regulars. As Tan Vinh wrote in the The Seattle Times on 11th March 2009, "The drink became a cult hit around Seattle, then Portland and was eventually picked up at cocktail dens in New York City, where many bartending trends are set. The Last Word then started to appear on drink menus in Chicago and San Francisco and spread to several cities in Europe – especially around London and Amsterdam – and beyond"
Over on America's East Coast, when Audrey Saunders opened Manhattan's Pegu Club in 2005, the Last Word was one of the cocktails championed by her team, including Phil Ward, the man responsible for both the Division Bell and the Final Ward, the best-known riff on the Last Word.
Cold Glass
You can make these cocktails. Start right now.
The Last Word with an Asterisk: variations on a classic cocktail
When I first encountered Phil Ward's Final Ward cocktail, I wrote it off as a "why would I do that?" type of experiment. It was, after all, just a variant of the Chartreuse and Maraschino Last Word, which didn't make sense to me, either, on paper.
Fast forward to a recent dinner party: my sister's cocktail request is, yes, The Last Word. Really? And that's when I discovered that what looks like nonsense on the page turns out to be complex, delicious and seductive in real life. Thus The Last Word entered the Cold Glass repertoire.
And it got me to thinking again about The Final Ward, now in a more favorable light. Start with The Last Word (now on the Brilliant Inventions List), and make it with whiskey—maybe that wouldn't go as far wrong as I originally thought.
After all, if you squint at the Final Ward recipe just right, you can sort of see the Whiskey Sour shining through. Perhaps Final Ward is to the Whiskey Sour as Sazerac is to the Whiskey Old Fashioned. It's a stretch, I'll admit, but it was enough to make me think this model might work with more than just whiskey and gin. I figured there must be plenty of published variants.
In the end, I found only two—but they're good ones, and they encouraged me to mix up a few experiments on my own.
The Final Ward comes first, since it holds the place of honor as the twist that inspired this search. It was designed in 2007 by Phil Ward, who tended bar at Manhattan's Death & Co. at the time.
The Final Ward Cocktail
The Final Ward Cocktail
¾ oz Rye Whiskey (Rittenhouse 100, Wild Turkey 101)
¾ oz Green Chartreuse
¾ oz Maraschino (Luxardo)
¾ oz fresh lemon juice
Shake until very cold; double strain into a chilled cocktail glass. No garnish.
Ward substituted lemon for the Last Word's lime, as any whiskey drinker would expect. It's this change that puts the Final Ward in close company with the whiskey sour. The proportions are all wrong, of course, but the pieces are there.
It's easy to argue that this combination works as well as the original Last Word. It may come down to whether you're in the mood for gin or whiskey. And this works just fine with bourbon.
The second variant is the rum-based Dernier Mot. I found only a single reference to this delightful combination, the drinks menu at El Cobre in New York City. It is the Last Word made with rhum agricole—hence the French turn on the name. Having no rhum agricole at hand, I substituted Lemon Hart Demerara rum. Oh, boy… I think this one holds together even better than the Final Ward.
The Dernier Mot Cocktail
The Dernier Mot Cocktail
¾ oz Rhum Agricole (Lemon Hart Demerara Rum)
¾ oz Green Chartreuse
¾ oz Maraschino (Luxardo)
¾ oz fresh lime juice
Shake until very cold; double strain into a chilled cocktail glass. No garnish.
Lime is the preferred fruit with the rum. As in all the previous variants, short the Chartreuse a bit to balance the flavors.
So now we have the original gin, plus rye whiskey and rum. I liked the way this was going, so it was time to experiment.
It turns out that the Last Word model doesn't work with all spirits. It's not so good with tequila, for example—the flavors just don't add up into a whole that's bigger than the pieces.
And vodka? It almost works, but vodka doesn't really bring anything to the drink, and so it just seems unbalanced, like something's missing. Like an entire flavor component. Sort of like a string quartet without a cello.
But there is another base spirit that works astonishingly well: cognac. It's beyond belief that no one has published this variant before, but I can't find it—if you've seen it somewhere, let me know; in the meantime, I'll mix it with a smile, and call it the Asterisk:
The Asterisk Cocktail
¾ oz brandy (Remy VSOP)
¾ oz Green Chartreuse
¾ oz Maraschino (Luxardo)
¾ oz fresh lemon juice
Shake until very cold; double strain into a chilled cocktail glass. No garnish.
We're back to lemon in the Asterisk, following the lead of the Final Ward.
The Asterisk variant has a slight sweetness, a round richness, and a very cohesive flavor. The Chartreuse and the cognac seem to be made for each other. This is my favorite of the lot.
Lost for decades, The Last Word's formula has turned out to be a versatile model. An apparent absurdity, the Chartreuse and Maraschino combination provides a seductive herbal complexity that blends extremely well with citrus and a list of spirits that extends well beyond gin.
The Last Word Cocktail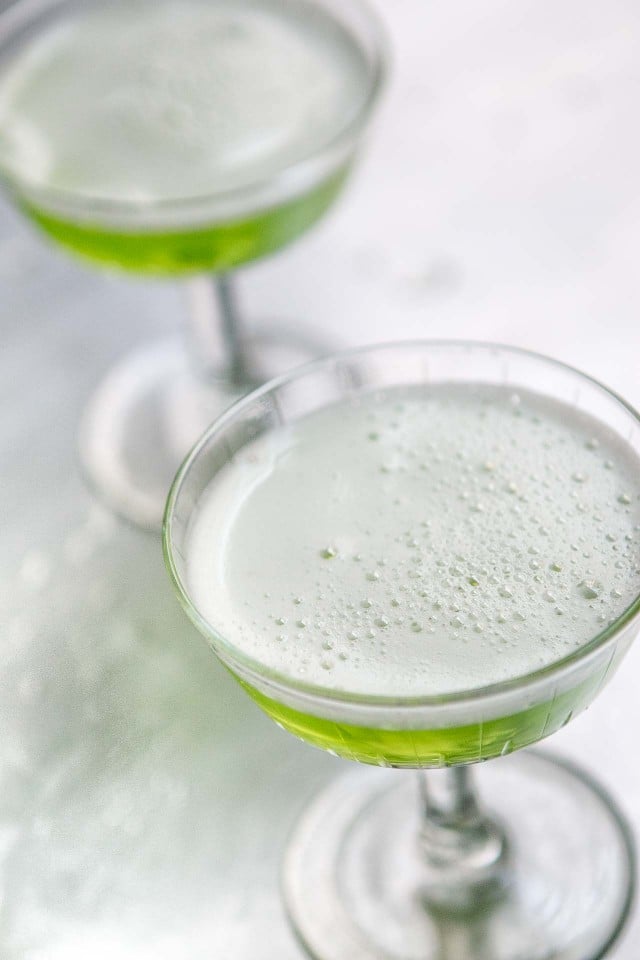 While I wish that I could try everything and go to all the places that are suggested to me. I used to keep lists of restaurants and bakeries in Paris that I intended to go to. Then, invariably, a few weeks later, that list would get updated with new places and I'd realize that I'd never make it to the older places. (Or maybe I would, just not at the moment. But most of us know where our best intentions go…) The other issue is time, which seems to constantly be in shorter and shorter supply.
Thank goodness for cocktails. Each glass, to me, is a like a little vacation. A nice cocktail takes you to a new place, with whatever mix of liquors, bitters and fruit juices are in that frosty goblet. From the moment the icy liquid hits my lips, as it makes its way down, I feel like I'm going on a little private journey, which can all be adjusted depending on what you're mixing up.
A reader sent me a particularly compelling message the other day with the word BEG in all-caps. Writing in all-caps is sometimes considered a no-no online, since it can come off as shouting. But through those capital letters, I sensed her passion for this cocktail. And when she closed out her message with "It'll blow your mind," well – isn't that what cocktails are for? So I got to work.
She'd accompanied the message with the proportions (thanks again, Kiki!), saying that she always doubled the recipe because she loved the cocktail so much. That prompted yet another of my scavenger hunts in Paris – this time, to find maraschino liqueur. Most of the stores that sell wine in Paris, and there are a lot of those, offer a closely edited selection of whiskies, vodkas, and other liquors, but don't delve too far beyond the standard bottles. My bottle of Bombay Sapphire was bought at the duty-free shop on my last trip. I used to wonder: Who the heck buys liquor there? It's so expensive. Now I know…
I hoofed it over to one highly acclaimed liquor store that specializes in liquors for cocktails, and not only did they not have it, but they'd never heard of it. Ditto for another liquor store that specializes in more elusive bottles. I'm often surprised by that because I'm not a cocktail or liquor specialist, and even I've heard of it.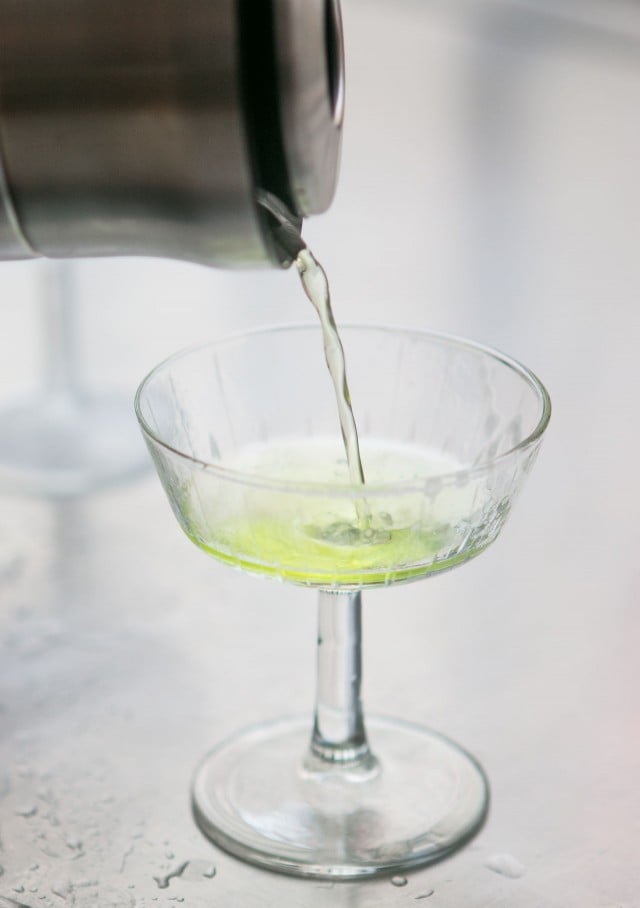 Then I realized that – of course – the Italians know about maraschino liqueur, which I knew about because I used to use it in San Francisco when making Italian desserts, or used it to add a touch to mixed berries and summer fruit, to highlight their flavor. So I hit one of the local Italian shops in my neighborhood, who had one lone bottle on the top shelf, which I grabbed.
The woman at the Italian épicerie asked me how I knew it and I said that as a pastry chef, I used it on fruit sometimes and in Zuppa Inglese. (In place of the traditional Alkermes, a liqueur colored by an insect, which is hard to get. And just for fun, I should try asking for that in a liquor store in Paris!) But I was planning to use it for an American cocktail.
When I got home, I also realized that I was low on Chartreuse (how'd that happen?) and used Izarra, an herbal Basque liqueur, although Chartreuse is the original choice. So if you have that, I recommend using it.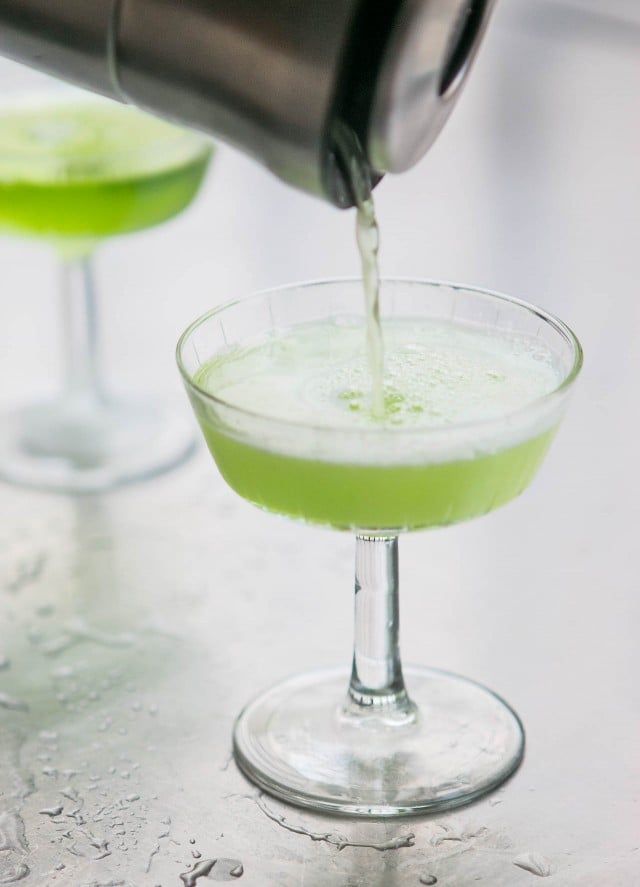 Once I had collected the bottles that I needed, back home I chilled a few cocktail glasses in the freezer and went to work. Because, man, after that…I was ready for a drink!
I juiced a few limes, added the other ingredients in equal proportions, then shook them up in my cocktail shaker with a handful of ice.
The beautiful lime-green liquid came spewing out of the shaker and into the glasses, astonishing me with its vivid color and yes, the four unique flavors blended together perfectly. Thankfully, now that I have all the ingredients on hand, I can have The Last Word whenever I want. And who doesn't want to always be able to have the last word?
In Search of the Ultimate Last Word
We asked 12 of America's best bartenders to submit their finest recipe for the Last Word—and then blind-tasted them all to find the best of the best.
More than most cocktails, the Last Word has a split personality. The mix of gin, maraschino liqueur, green Chartreuse and lime juice is an old drink, invented before Prohibition struck. But it is also a new drink, having only really been discovered and embraced by bartenders and drinkers alike in the last 15 years. You can't even call it a comeback cocktail, because, in order to have a comeback, you had to have been something to begin with. The Last Word was nothing and nowhere until the 21st century.
The Top Three
Paddy O'Brien's Last Word
Tom Macy's Last Word
Erik Adkins' Last Word
All thanks for its current currency—or blame, depending on your viewpoint—goes to Murray Stenson, a veteran Seattle bartender who spotted the drink in an old copy of Bottoms Up! (1951), tested it, liked it and, in 2004, put it on the menu at Zig Zag Cafe, where he was working at the time. Word (ahem) of the drink spread through the nascent cocktail community, and it was soon being served in New York and elsewhere, attaining the status of "bartender's handshake"—that is, a cult cocktail that, when ordered, communicates your in-the-know-ness to all barkeeps and booze enthusiasts within earshot.
It is, of course, no longer a cult cocktail. It is a classic cocktail, a drink that is constantly riffed upon (the Paper Plane, Final Ward, Naked & Famous and Division Bell are all modern takes on it), and one you can get at any self-respecting cocktail cove. A good number of those bars, in fact, have taken up the drink as their very name, including ones in New York City, Ann Arbor, Edinburgh and, until recently, San Antonio.
With the drink so ubiquitous, we felt it high time to go in search of the last word on the Last Word. Joining myself as judges were bartenders Karin Stanley (Existing Conditions), Joaquín Simó (Pouring Ribbons) and Thad Vogler (Bar Agricole and Trou Normand). Together, they tasted through 12 versions of the sour culled from bartenders across the United States, including a recipe from Murray Stenson himself.
It was a tough room for the drink; somewhat surprisingly, there wasn't a lot of love evident for the Last Word. Like the Aviation, another one-time "bartender's handshake," the cocktail seems to have suffered a backlash in bartending circles in recent years.
Simó called the blend of ingredients, "Chaos. There isn't a single shrinking violet in the mix. Every ingredient is a haymaker." Stanley took issue with the maraschino liqueur: "Love Chartreuse, hate maraschino," she said. "Maraschino drives me up the wall." Vogler, meanwhile, suggested that it's past its prime. "No, I don't think it's a favorite of any of ours," he said. "It was one of the first new-old drinks. It had a relevance at a certain point in time."
With this skeptical attitude, we plunged into the tasting and, against all odds, found a thing or two to like. The Last Word is famously an equal-parts cocktail, and the panel believed the proportions should be honored. But those parts can be subtly adjusted. Simó was an advocate of using overproof gin to allow that spirit more of a chance to stand up to the powerful flavors of the other ingredients. Stanley approved of cutting back the maraschino liqueur to half and making up for the volume with simple syrup. And Vogler thought, given the brute strength of the spirits involved, proper dilution of the cocktail was important.
All assembled agreed that the drink, despite its weighty components, should be light and bright and have a clean, dry, crisp finish. "That's the quality of a good sour," said Simó. Above all, the judges looked for balance. Any participating recipe that tasted too much of any one of the ingredients—save the gin—was quickly rejected.
Despite the initial pessimism, the tasting had a fairy tale ending of sorts: the Last Word from The Last Word, a cocktail bar in Astoria, Queens, won top honors. The recipe, by Paddy O'Brien, was straightforward aside from the gin. O'Brien leaned on the fairly obscure Warwick Rustic Gin, a juniper-forward craft spirit from New York State, and bumped up the volume from three-quarters of an ounce to a full one ounce. The judges found it piquant and well-integrated, with a creamy middle palate and pleasing, lower-register notes throughout.
Second place went to Tom Macy of Clover Club, a frequent victor in PUNCH cocktail tastings. His gin of choice was Tanqueray No. 10. But the twist that perhaps nudged his mix to the front of the pack was the Jack-Rose-like trick of splitting the citrus element between lime and lemon juice. "Everything seems to be speaking in turn," observed Simó. "Everything has a moment in the sun." (Macy, apparently concurring with Vogler's dilution thesis, instructed that the drink be shaken "a little longer than you normally would.")
Ranking third was Erik Adkins of San Francisco, who also went for Tanqueray No. 10, but kept his citrus wholly lime. The judges found it balanced, juicy and bright. Just missing the mark, but nonetheless appreciated, were Last Words from Meghan Dorman of Raines Law Room and Dear Irving and Murray Stenson himself, both of whom opted for standard Tanqueray.
Faced with these superior versions of the cocktail, the hard hearts of the judges warmed up to the drink.
"I hated it less than I thought I would," declared Stanley.